You've Never Seen A Wagon Like This Before!
All-terrain, easy to maneuver, customizable set-up, myriad uses...
Last fall, as our crew was enjoying an outing with seven kids ages newborn to four years, we spotted a mom with such a fantastic wagon that we surreptitiously took a picture of it. That wagon was the Veer Cruiser, and the more we researched it, the more we knew it was made for our lifestyle. Often referred to as a hybrid stroller-wagon, the Veer Cruiser has a black matte airplane-grade aluminum frame with airless polyurethane wheels, so no flat tires – ever! The telescoping handle can be adjusted for short people, tall people, and any height in between, and also locks into place so you can both pull and push the Veer Cruiser. The
Veer Timberdoodle Bundle
includes a FREE rear storage basket to hold all your gear.
Veer Accessories
Families with twin toddlers may want to add comfort seats. Does your family do life in the midst of blazing sun or frequent rain? Consider adding a canopy or two. Everyone can use a rear storage basket though, to hold whatever gear today requires. That's why we include it in the Timberdoodle Veer Cruiser Bundle!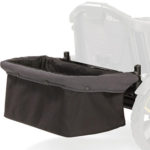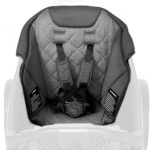 6 F.A.Q. on The Veer Cruiser
Why not just use a double stroller?
At about 10 months most kids begin to balk at being in a stroller. I suspect that is in part because of the limited visibility. With the Veer Cruiser, your children will have a 360 view that will make not only zoo trips but everyday strolls that much more exciting. Plus, most stroller seats are just not wide and long enough to accommodate an older, taller child. However, the bottom of the Veer Cruiser has a drop-down footwell to give older children more comfortable leg room. Also, if space is at a premium, the Veer Cruiser, when folded up, often has a smaller footprint than a double stroller. Finally, the low sidewalls of the Veer Cruiser make it safe and easy for older kids to climb in and out.
What kinds of surfaces can the Veer Cruiser be used on?
Because the big all-terrain wheels are sturdy, the Veer Cruiser can handle nearly all surfaces with ease. From paved routes to unpaved mud trails, bark chips, gravel, and even snow, the front suspension allows for all sorts of rugged off-roading while the rear wheel fenders protect your tiny passengers from mud and debris. The one exception is dry sand, which had mixed results. If yours is an active family living in an area where there are a lot of unpaved trails, this wagon is for you.
Is the Veer Cruiser only good for off-roading?
Absolutely not! While most double strollers are big and hard to maneuver, the front wheels on the Veer Cruiser swivel to give it better maneuverability and easier turning in tight spaces. Moreover, because it is narrow enough to fit through front doors and gates easily, it is perfect for trips to the playground, farmer's market, or a field trip with your homeschool group. Plus, if you are a fan of theme parks, you will be happy to know that the Veer Cruiser, because it can be pushed, is often one of a very few wagons allowed inside.
Will the Veer Cruiser grow with my family?
Yes! The Veer Cruiser has tons of optional accessories, from a toddler comfort seat to a sun and rain shade that can be purchased separately. Super easy to assemble and collapse, the Veer Cruiser is simply the best when it comes to sturdiness, quality of materials and fabrics, and spot-on design. And when the kid-toting years are behind you, the Veer Cruiser will still be going strong, ready to haul towels and treats down to the lake or potatoes and peaches from the farmers market.
What's included?
Each wagon comes with cup holders, a detachable snack and drinks tray, and, when you purchase the Veer Cruiser from Timberdoodle, a rear storage basket to hold all your gear.
But has your family really used it?
When our family added a Veer Cruiser I (Joy) was beyond skeptical. We already had a boatload of baby carriers and a brand-name double jogging stroller (purchased used) that had served us and our littles well so far. I didn't see how this could be any better. Now that we've been using it for awhile, can I just say that I was wrong?
Enter our house on any given day and you'll almost certainly be greeted by a passel of kids and an at-the-ready Veer Cruiser. Walking to Grandma's house? Our littlest ones will ride ever-so cheerily while the bigger kids load in their favorite toys, new works of art, and usually wildflowers picked along the way. Headed out to the field to burn off some energy? Baby rides with the picnic lunches and spare bottles while toddler walks with the big kids. (He will probably ride on the way in though, as nap time approaches!) Trying to get everyone outside quick to watch the latest equipment arrive on the construction site? Little ones are eagerly loaded and buckled, and everyone can roll out the door in moments. We've also used it for parade watching, at the playground, and even when it's our turn to help tear down our mobile church.
It truly collapses and sets back up quickly and easily, even for those of us who don't remember all the steps to collapse the jogging stroller. Our Veer Cruiser has one Comfort Seat on it, which works great for our 8-month-old. The 1-year-old does great in the standard seat - but if we were off-roading more than we do, I'd add another Comfort Seat for him, as he's on the edge of needing that cushioning to keep him from bonking his head on the really big bumps. We also have one Retractable Canopy, usually on the baby side. We remove both accessories when folding the Veer just because it's so easy to put them back on and works well for us.
The
Veer Cruiser
has been a true blessing for our family and anticipate that it will be an ever-ready useful tool for many years to come.